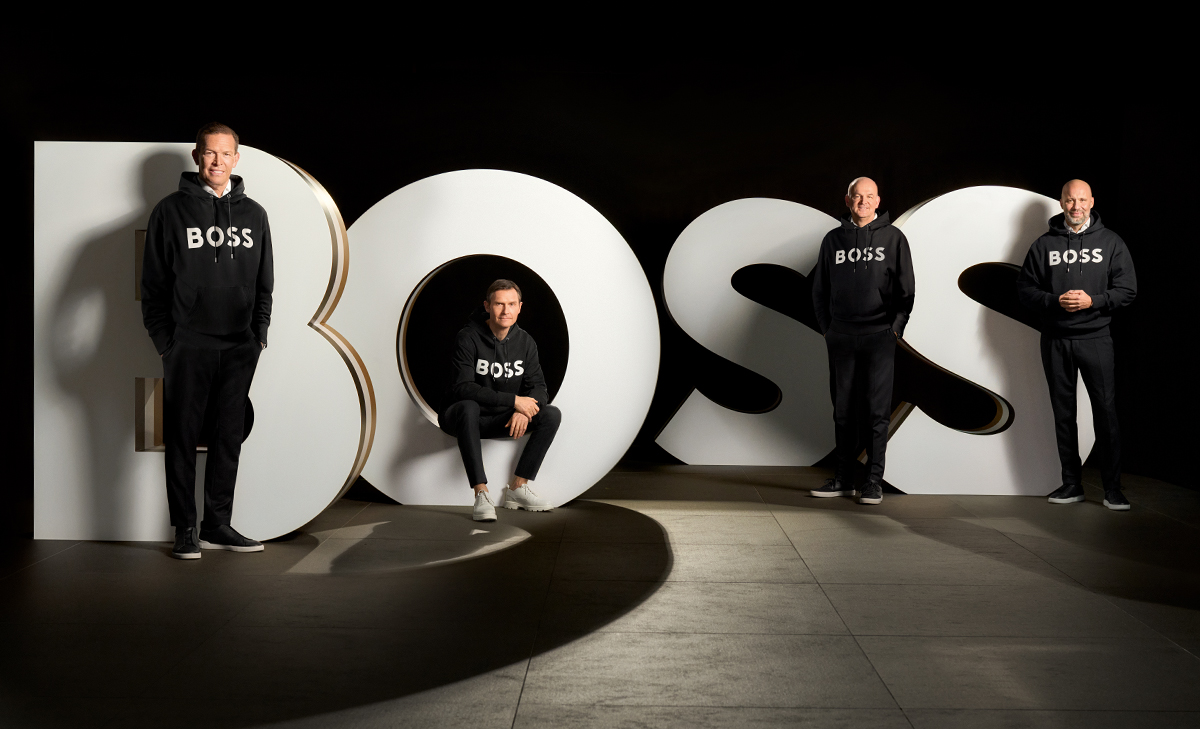 Different Perspectives. The same goals. The HUGO BOSS Management Team.
The HUGO BOSS Managing Board is responsible for the Group's strategy and management.
The members of our Managing Board are Daniel Grieder, Yves Müller, Oliver Timm and Dr. Heiko Schäfer. Explore their backgrounds and what NEW HUGO BOSS means to them.
Chief Executive Officer (CEO)

Daniel

Grieder

Daniel Grieder was born in Washington, D.C. in 1961. While studying at the University of Applied Sciences in Business Administration in Zurich (HWZ Hochschule für Wirtschaft) he founded Max Trade Service AG in 1985 (later renamed Madison Clothing Ltd.), which distributed internationally renowned brands – such as Pepe Jeans, Tommy Hilfiger, Stone Island, and C.P. Company – in Switzerland, Austria, and Eastern Europe. From 1997, Daniel Grieder was largely responsible for the successful establishment of Tommy Hilfiger in Europe and took over the position of Chief Executive Officer Tommy Hilfiger Europe in 2008. After the integration of the Tommy Hilfiger brand into Phillips-Van Heusen (PVH) Corporation, Daniel Grieder became Chief Executive Officer of Tommy Hilfiger Global and PVH Europe in 2014. Since June 2021, Daniel Grieder is Chief Executive Officer and member of the HUGO BOSS Managing Board.

Daniel Grieder is Chief Executive Officer (CEO) and responsible for Company Strategy, Business Unit BOSS Menswear, Business Unit BOSS Womenswear, Business Unit HUGO, Global Marketing, Corporate Communication, and Licenses Management.

"With our new boldness and confidence we will claim back the lead. Driving brand relevancy is THE top priority as part of "CLAIM 5"! With our new strategy, our new branding and our new digital way of thinking, we will put the consumer at the center of everything we do. To succeed, trust is the essence! Based on our strong passion, entrepreneurial spirit, and team mentality, I am absolutely convinced that we will exploit the great potential of HUGO BOSS, and become one of the top 100 global brands."

Follow Daniel Grieder

Chief Financial Officer (CFO),
Director of labor relations

Yves

Müller

Yves Müller was born in Lüneburg (Germany) in 1969. He studied Business Administration at the European Business School in Oestrich-Winkel, Dijon and San Diego. In 1994, he started his professional career at the auditing and tax consulting company Arthur Andersen & Co. in Hamburg. During this time, Yves Müller qualified as a tax consultant and auditor. 1999 he joined Tchibo GmbH where he was appointed Chief Financial Officer in 2006. In December 2017, he became a member of the HUGO BOSS Managing Board.

Yves Müller is responsible for Controlling, Finance and Tax, Internal Audit, Central Services, IT (incl. Information Security), Investor Relations, Risk and Insurance Management, Legal/Compliance/Data Protection, and HR.

"It is exciting to see how all the different parts of our new growth strategy are interlinked and complementing one another. These initiatives will add up to superior growth, strong profitability improvements and superior cash flow generation in the years to come. This successful execution of our "CLAIM 5" strategy will enable us to reach new heights while delivering sustainable, long-term value for our shareholders!"

Chief Sales Officer (CSO)

Oliver

Timm

Oliver Timm was born in 1971 in Mainz (Germany). After studying Economics at Gerhard Mercator University in Duisburg, he began his professional career at Tommy Hilfiger in 1998, where he held various positions. Amongst others, he was substantially involved in launching the American brand on the European market. In 2005, he was appointed Managing Director of Tommy Hilfiger Germany. Following the integration of the Tommy Hilfiger brand into Phillips-Van Heusen (PVH), Oliver Timm was appointed President of PVH Europe and later Chief Commercial Officer PVH Europe. In January 2021, Oliver Timm became a member of the HUGO BOSS Managing Board.

Oliver Timm is responsible for Global Retail and Wholesale incl. E-Commerce, Visual Merchandising, Retail Operations, Real Estate Management, and Customer Relationship Management (CRM).

"Our distribution strategy at HUGO BOSS is all about omnichannel. Because this is what customers ultimately expect from us – a new seamless and perfectly meshed brand experience that overcomes classic mindsets and divisions – from retail, to wholesale, to digital! We will deliver a best-in-class customer journey based on data-driven decisions. With "CLAIM 5", we will translate our new brand power into all consumer touchpoints! By implementing and living our omnichannel strategy, we expect to generate 4 billion euros in sales by 2025!"

Chief Operating Officer (COO)

Dr. Heiko

Schäfer

Born in 1972 in Minden (Germany), Heiko Schäfer studied Business Administration at the University of the Saarland and the University of Michigan before completing his studies with a PhD in Marketing at the University of Mannheim. After starting his career at Boston Consulting Group in 2002, he joined adidas AG in 2008, taking up the position of Vice President Global Operations Strategy. In 2015, Heiko Schäfer joined the Managing Board of Tom Tailor Group as Chief Operating Officer, where he was appointed Chief Executive Officer one year later. In March 2020, he became a member of the HUGO BOSS Managing Board.

Heiko Schäfer is responsible for Operations, Own Manufacturing, Product Development and Sourcing, Sustainability and Quality Management, and Global Logistics.

"HUGO BOSS is breaking new grounds to decarbonize the fashion industry. With our "CLAIM 5" strategy, we are approaching a new way of thinking: We intensify our sustainability efforts to deliver a meaningful and measurable impact as well as an emotional engagement with our consumers worldwide. Sustainable throughout – that's what really matters to us, because if we don't care about our planet than we also don't need to worry about fashion."